Are you ready for a spine-chilling Halloween extravaganza? Look no further than the spooktacular Halloween trunk-or-treat games that will leave you and your little ones screaming with delight!
This year, let's take Halloween to a whole new level of fun with these exciting games that are sure to make your trunk-or-treat event an unforgettable experience.
What is Trunk or Treat?
Before we dive into the heart of the fun—Halloween games for trunk or treat—let's make sure everyone's on the same eerie page about what trunk or treat actually is. It's a fantastic Halloween tradition that's been gaining popularity in recent years.

Picture this: instead of going door-to-door, kids (and adults, if they're feeling spirited!) visit parked cars, each decked out in its own unique Halloween theme. These cars, or "trunks," are like mini trick-or-treat stations, and they offer a safe and fun environment for everyone to enjoy. Plus, it's a fantastic way to let your creative Halloween spirit shine through car decorations.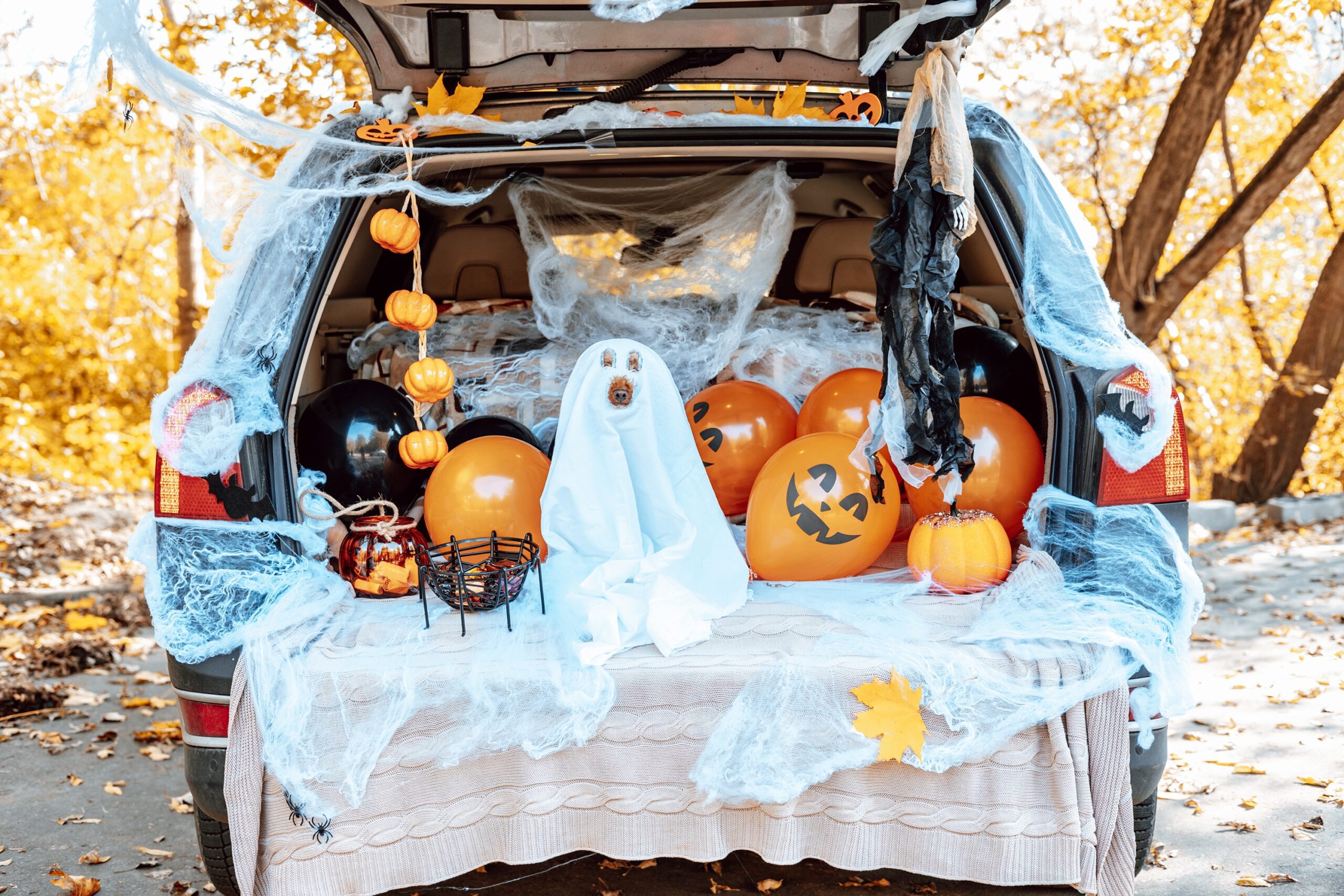 Now that we've got that covered, let's jump into the heart of the Halloween fun—these fun trunk-or-treat games that will make your event spooktacular.
Games not your thing? Check out our spooktacular costumes >>.
Best Trunk or Treat Games
1. Mummy Wrap Race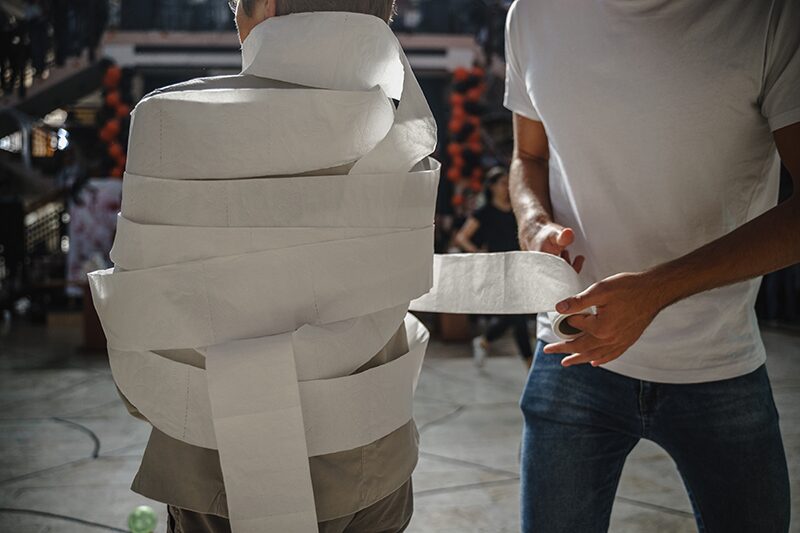 This one is a classic for a reason. Gather your little monsters and form teams. Each team gets a roll of white toilet paper or streamers and their mission? Transform a willing (and giggly) team member into the spookiest mummy in town!
The catch? They've got a time limit. Set your timer and watch as mummies in the making wrap their teammates head to toe in white, just like a real mummy! The team that creates the most authentically wrapped mummy in the least amount of time wins.
2. Axe Throwing Game
No need to panic; we're not throwing real axes here! We've got a foam axe with a VELCRO® Brand Heavy Duty loop at the end of the axe and a VELCRO® Brand Industrial Strength hook as the target.
Set up a safe distance away and let the axe-throwing trunk or treat game begin.
Folks can take turns tossing the foam axe at the target, aiming for a bullseye. It's the perfect Halloween trunk or treat game to test your aim while adding a spooky, lumberjack twist to your Halloween celebrations.
3. Pin the Tail on the Werewolf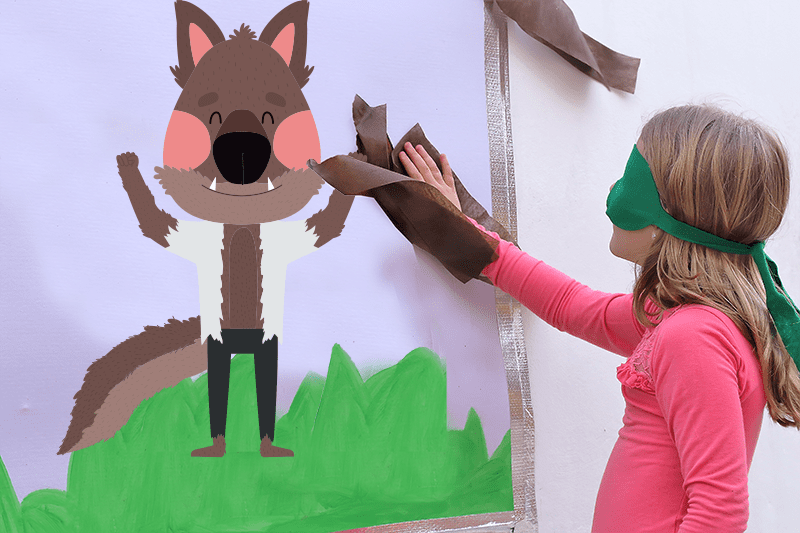 Remember the classic "Pin the Tail on the Donkey" game from your childhood birthday parties?
Well, it's time to give it a Halloween makeover. Instead of a donkey, we have a werewolf, and instead of a tail, we have…well, a tail!
Blindfold the brave players, spin them around, and let them try to pin the tail onto the elusive werewolf. The player who gets closest to the mark wins a howling good prize!
4. Ghost Bowling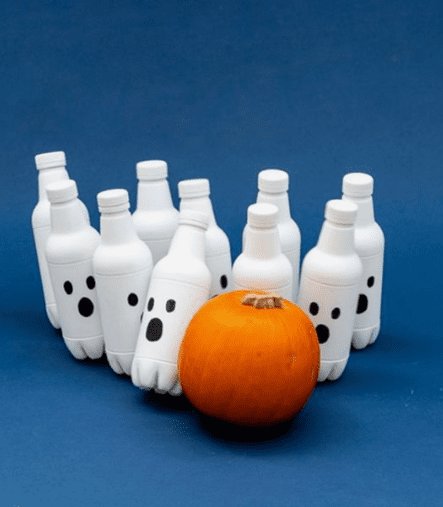 Pic from Good Morning America
Bring a little paranormal activity to your trunk-or-treat event with this spooktacular trunk-or-treat game.
Create ghost-themed bowling pins by decorating empty water bottles or white cups and drawing spooky ghost faces on them.
Then, set up your bowling alley and let the kids take turns trying to knock down the ghost pins with a pumpkin-shaped bowling ball. It's a ghoulishly good time for all ages.
5. Pumpkin Toss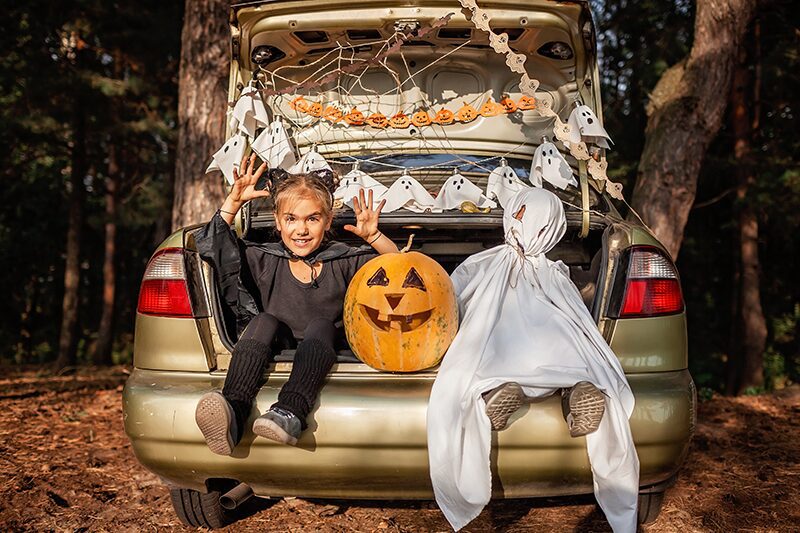 Test your pumpkin-throwing skills in this delightful trunk-or-treat game. Place a carved pumpkin with a wide-open mouth at a distance and provide small bean bags or miniature pumpkins for tossing.
Those playing can take turns trying to throw the bean bags or mini pumpkins into the pumpkin's mouth. If they succeed, they win a sweet Halloween treat.
It's a trunk-or-treat game that combines skill with a dash of Halloween magic.
By incorporating these tips and expanding on the trunk-or-treat game ideas, you can host a Halloween event that's both fun and spooktacular. These Halloween trunk-or-treat games will keep your guests entertained and engaged, leaving them with cherished Halloween memories for years to come.
So, gear up for a night of ghostly fun, decorate your trunk, and let the games begin! Get creative, get spooky, and most importantly, get ready for a Halloween adventure that your little monsters will talk about for years to come.
With these fantastic Halloween games for trunk or treat in your arsenal, you're all set to host a Halloween event that's nothing short of spooktacular!
If you try these out for yourself, don't forget to tag us on Instagram @VelcroBrandUK and happy haunting!